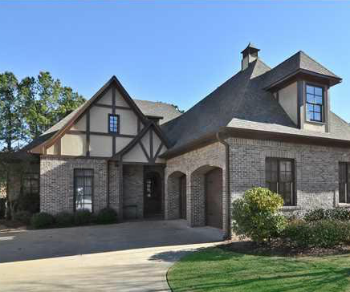 Pelham, AL roof replacement should always be performed by a licensed roofing contractor. Replacing your shingle or cedar shake roof can be done at a low cost. Our Roofing company installs quality residential roofs with 50 year warranty.
Get A Pelham, AL Roof Replacement For Less!
CALL: (205) 588-2785
Shingle Roof Replacement in Pelham, AL
How do you know when it's time to replace the entire roof? Honestly, it is pretty rare to need a completely new roof installed.
The top 5 reasons you need to replace your roof are:
Old Roof- Many older roofing surfaces reach the end of life at 20 years.
Storm Damage-Tornadoes, Hail Damage and falling trees.
Water Damage- When water damages most of wood underneath.
Poor Installation- The roof was put on by an unskilled, unlicensed roofer.
Fire Damage- Fire and high temperatures can destroy roofing quickly.
Whatever the reason, you can count on One Call Roofers to replace your roof with quality workmanship at an affordable cost.
Inspection
The first step in getting the best Pelham, AL roof replacement is the inspection. Our professional inspectors will cover every inch of your residential roof. They will inspect and examine chimney flashing, plumbing vents, soffits, eaves and the decking under the roofing material.
Everything needed to completely install a new roof will be provided in a written in your Pelham, Al roof replacement estimate.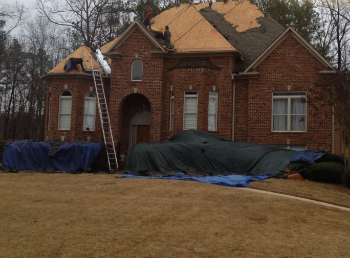 Preparation
There is a lot more to replacing roofs than just the job itself. We take great care and pay special attention to landscaping around your home. Stripping a residential roof can be messy. That's why we cover plants, shrubs and landscaping to avoid any damage.
Installation
Once the rooftop has been prepped and readied, it's time to install the new roof. One Call only uses the highest quality roofing materials and back our work with an iron clad warranty. We install new roofs quickly and efficiently so as not to disturb your daily life.
Cleanup
As a local Pelham, AL roof replacement company, we care about getting as many referrals as possible. The key to that is making sure that you cannot tell we've been there. We take great pride in keeping the exterior of your home free from roofing materials and debris. Our Angie's List reviews and A+ Better Business Bureau rating are a testament to that.
One Call Roofers is a Pelham, Al Roof Replacement Company serving Hoover, Vestavia and Mountain Brook.