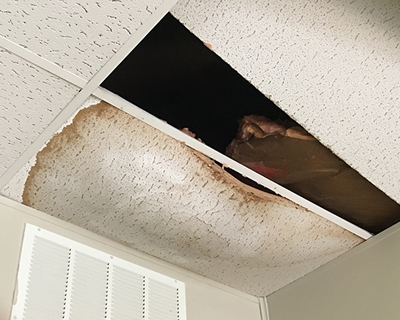 Repairing roof leaks in Birmingham, AL is a phone call away. Our commercial roof repairs are affordable and done right the first time.
Do you have a leaky roof that needs to be fixed right away? We offer 24-hour emergency repair services. CALL NOW (205) 588-2785
If your business has water stains on the ceiling or wall, One Call Roofers can fix it quickly and guarantees the repair we make. When water begins to enter your building due to storm damage or age, you need to repair the leaks quickly before the problem worsens.
Don't procrastinate. The water leaking through the roof causes wood damage and even dangerous mold growth.
24 Hour Roof Leak Repair Service
When it comes to your place of business, down time is lost revenue. Whether your roof is leaking before, during, or after hours, you need it fixed quickly and properly to avoid a shutdown.
One Call Roofers specializes in 24HR emergency roofing services. This means that your leaky roof won't have the chance to interrupt your daily business operations.
We go far beyond fixing the roof leak. Our water damage remediation team has the skills and expertise to remove and dry-up water on the inside of your building too. The best part is that our pricing is a fraction of what the big water damage specialists charge.
Since we're centrally located in Birmingham, getting to your business and stopping the roof leaks couldn't be faster or easier.
Storm Damage Roof Leaks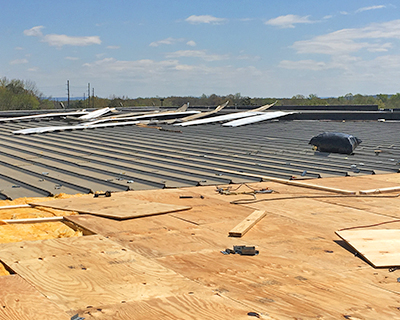 Storm damage roof leak repair is needed especially when hail damage has occurred. Hail will chip away at the grit, or sand, that coats an asphalt shingle and cause it to leak.
High winds carry objects that cause serious damage to all types of commercial roofing. For example, old single-ply membrane roofing like PVC becomes brittle over time. Falling or flying objects like tree branches tend to cause rips and tears at stress-points.
Tornadoes don't need to hit your building directly to cause serious damage to your metal roofing. Large standing seam or R-Panel metal roofing is secured to your building by way of fastening screws. When they shear, the storm peels back the metal and exposes your building to the elements.
Roof Types.
Flat Roofs – Leaks in flat roofs are usually hard to find but easily fixed. Because water may travel a long distance, a trained professional is needed to locate the place where water is penetrating.
Asphalt Shingles – Once the leak is located on a shingle roof it can be repaired quickly in most cases. Shingle roof leak repair in the Birmingham area always begins with a complete roof inspection.
Metal Roofing – Leaky metal roofs are not as common as other materials. When metal roof leaks occur, it is usually due to a rusted fastener or a seam separation. Metal roofing leaks can also be sealed with an elastomeric coating. We specialize in copper roofs too!
Commercial Roof Leak Repair Company
We have been performing roof leak repair for 20 years and will be here for years to come to stand behind our work. Our list of satisfied customers in the Birmingham area is endless. We proudly maintain an A+ rating with the Better Business Bureau. We guarantee our work and stand behind our leaking roof fixes.
We provide affordable roof leak repair in Birmingham, AL and the entire Birmingham area.