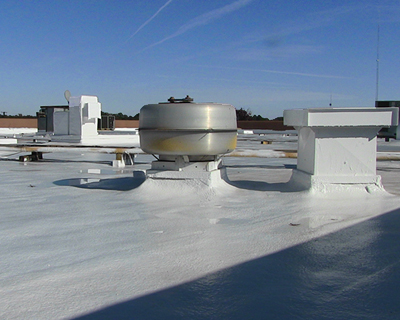 Roof coatings are a great way to add years to the life of a commercial roof while reducing the cost of cooling the interior of the building.
Waterproof Roof Coatings Seal Your Flat or Low-Sloped Commercial Roof Without Shutting Down During Installation.
CALL US ! (205) 588-2785
The best roof coatings are made of an elastic material. It's applied over the existing covering to form a virtually seamless barrier against moisture. It can also save you big on your utility bills. It adds reflectivity that directs the sun's heat away from the building. These two factors make for an energy efficient installation that will stay watertight for many years.
Commercial Roof Coatings Birmingham, AL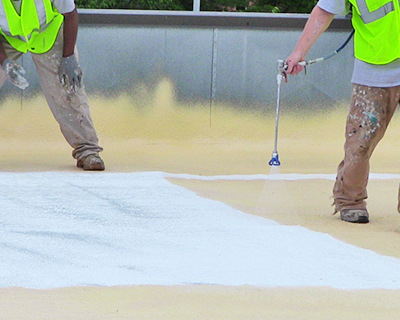 At One Call Roofers, we are dedicated to using flat roof coatings. It is a permanent solution to hot summer temperatures and leaks. By applying an elastomeric roof coating both issues are corrected in one easy application. The surface is sealed off to all moisture and becomes a reflective white. This will reduce the power required to cool the building significantly. Studies have shown a surface temperature difference of as much as 60 degrees on a hot summer day over standard commercial roofing
Waterproof Roof Coating Information
Elastomeric roof coatings can stretch to 200 times their original size and snap back into place. The coating will not crack or tear under normal conditions. That means water stays out. In the unlikely event it is punctured by flying debris, it can be easily and invisibly patched. If your commercial roof is nearing the end of its warranty period, rubber roof coatings can extend the life by ten years or more.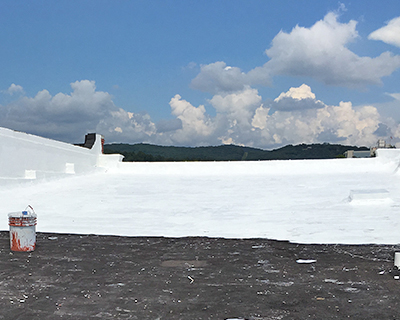 Industrial Strength Roofing
The commercial roof coatings we use are proven to resist the sun's damaging ultraviolet rays. It is a class I rated product that is also resistant to fire, wind uplift, leakage and hail damage. Because it is applied as a liquid, it can help seal skylights and all other penetrations for a seamless barrier.
All Surface Solutions
If your facility is topped with concrete, BUR, single-ply roll-out, metal or even wood, commercial roof coatings are the way to go. They can even be used over a tar and gravel roofs and come with a lifetime guarantee against leakage. Our commercial roofing contractors will show you how spray-on roof coatings can play a major part in your overall repair plan.
What We Offer
We have been applying commercial roof coatings for over a decade and all of the roofers on our team are factory-trained. Our company is fully insured and licensed. We are full-service commercial roofing contractors with a stellar performance record, rated A+ by the Better Business Bureau and referred by people on Angie's List.
If you are looking for a long-term solutions or a quality repair, give us a call. We are a commercial roof coatings contractor in Birmingham, AL.