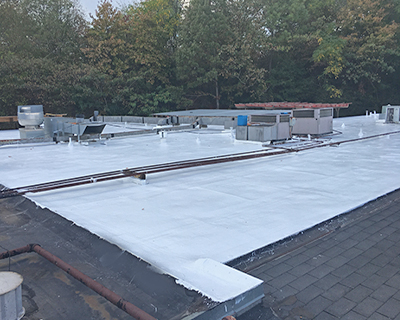 Rubber Roof Coating provides two great benefits for most commercial roofs. One is having a water tight, leak proof roof and the other is a well insulated shield from the typical Birmingham area heat.
Imaging covering your commercial roof with a single giant sheet of waterproofing. Get A Rubber Roof Coating Price Quote Today and see how affordable it really is!
Call (205) 588-2785
These coatings are mostly used on large commercial and industrial properties with low-sloped or flat roofs. Between moving rainwater off flat roofs quickly and significantly reducing your heating and cooling costs, our rubber roof coating is a must for your commercial building.
Rubber Roof Coatings
Industrial or commercial buildings in Birmingham typically use a rubber roof coating as a way to seal a roof quickly and affordably. Could you imagine being a restaurant owner or retail store and having to shut your doors for up to a week for roof leak repairs or replacement? Neither can we. Many times we can coat a roof safely while your business conducts its daily operations.
Roof repairs on a coated roof are quick and efficient. The damaged area is easily fixed and prepped to receive a fresh coat of elastomeric sealant. Additionally, as an alternative to a complete roof replacement, the value here just can't be beaten.
Rubber roof coating cost is much less than completely replacing the roof. Aside from the fact that they can last for 30 to 50 years, the big winner comes with energy savings! To begin with, it is the significant savings on cooling costs during the warmer months of the year. Once again, the size of your building is a key factor to keep in mind, especially if you need to cool thousands of square footage.
There are way too many benefits involved with our rubber roof coating installation to ignore, such as:
Energy Efficient Roofing– A cool white rubber roof coating reflects a ton of solar rays to help lower your AC bill.
Commercial Roof Sealant– We only use tested and proven products.
Roof Replacement Alternative– As long as the structural part of your commercial roof is sound or can be made that way, you can save tens of thousands by going with an affordable rubber roof coating.
All Birmingham rubber roof coating contractors are not on the same playing field. Be careful which commercial roofing contractor you choose to do business with. Your business is your livelihood and as such you should always use a licensed, reputable rubber roof coating company.
One Call Roofers is A+ rated with the BBB and Angie's list. We provide professional rubber roof coating in Birmingham and the surrounding area.