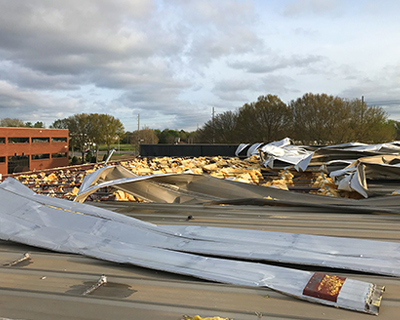 Emergency roof repair in Birmingham, Al is available 24 hours a day. When water starts dripping into your building, you need to fix roof leaks fast!
We Are the 24 HR Emergency Roof Repair Service in Birmingham, AL. We're fast, thorough, licensed, and insured.
Call Us At: (205) 588-2785
Most business owners realize that they need an emergency roof repair service immediately following a storm or some other event that caused damage. The fact is roofing contractors are needed when any leak is noticed on the inside. If water stains are appearing on an interior ceiling or wall, waiting until a better time can be a very costly decision. Even the smallest intrusion of water will inevitably increase and lead to further damage. Call now for a free estimate.
24 Hour Emergency Roof Repair
When an emergency roof repair company is called right away, the repair can be made without the need to replace the entire system in most cases. The only exceptions would be if the roof was at the end of its life expectancy, was damaged beyond repair, or was installed improperly. Poor installation is the leading reason newer surfaces fail. No matter when you need us, we will be there 24/7.
Water Intrusion
Roof leak repair is the most frequent reason a roofing service contractor is called. These leaks are often caused by poor seals around intrusions, such as vent pipes and ducts. Another common reason for leaks is debris damming in undersized gutters. This happens when leaves and twigs block the flow of runoff in the gutter and water backs up under the barrier layer between the shingles and the decking. Both of these issues are easily fixed at little roof cost.
Extreme Weather Conditions
In the Birmingham, AL, your rooftop is subjected to extreme conditions in all seasons. The blistering heat of summer softens asphalt shingles and makes them brittle when they cool down. Windy conditions in the fall and winter will cause any weakened shingles to lift and break, exposing the underlayment and decking to the brutal spring storm season. Your shingles, barrier and gutters should be inspected by an emergency roof repair company annually to prevent the need for storm damage repair. Your roofing system should also be inspected immediately after any violent storm to check for damage.
Hail Damage
Hail is the worst enemy of commercial roofs. When hail damage occurs, an emergency roof repair contractor is needed immediately, but the business owner is often unaware of it. Hail creates chips in the protective granules that are applied to the shingle as a sun and heat barrier. These chips can be the size of a dime and not visible from the ground. When the sun beats down on the chipped area, the shingle becomes weak and will break off during a high wind event. The fact that the shingle is a single tab of a larger sheet means that your emergency roof repair company will probably have to replace the entire section, even if there is only a single damaged area. Always have your system inspected by a qualified contractor after a hailstorm. We can do it quickly and restore your surface completely.
Falling or Flying Objects
Tree branches that land on your building can cause damage, and so can a branch that repeatedly slaps against it. All overhanging branches should be cleared from above the house. During a storm, airborne objects can strike the shingles causing the need for an emergency roof repair service. We will respond and fix it fast any time of the day or night.
Your roofing and underlayment form the barrier that protects your building from the most severe elements. It is important to maintain the integrity of this shield so an emergency roof repair company is rarely required. Having a frequent inspection annually, and after any storm or event that may have compromised your protection, is the best path way to protect your home from all that nature will deliver.
Do not wait until you have a disaster on your hands. Call today for a professional evaluation. We have been taking care our customers for nearly two decades. We maintain an A+ Rating with the BBB.
One Call Roofers performs emergency roof repair in Birmingham, AL as well as Hoover, Pelham and Vestavia Hills.