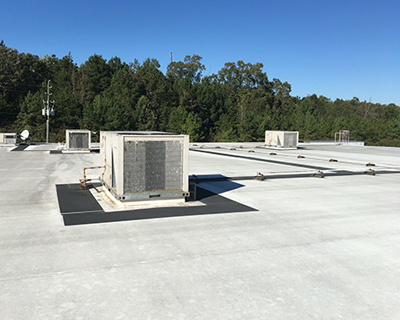 Flat roof repair in Birmingham, Al should be quick, affordable and guaranteed. We will inspect every inch of your flat or low sloped roof and repair or replace it quickly.
Looking for professional Flat Roof Repair, Replacement or Maintenance In Birmingham? We're licensed, certified, insured and affordable.
CALL US: (205) 588-2785
We have provided commercial flat roofing services in Birmingham and the surrounding areas for nearly 20 years. We know it can be hard to pinpoint leaks in them and we understand how easily neglected they are.
As a commercial roofing contractor, we know that it isn't always necessary to replace a commercial flat roof when quality repairs are available.
Flat Roof Replacement Company
Has your old commercial roof worn out or does it just keep leaking? As a professional flat roof replacement company, we install all types of roofing systems on commercial and industrial buildings including:
Tar & Gravel (BUR) – Built up roofing is the type of roofing surface that alternate felt with layers of bitumen and are then capped with gravel.
TPO – A single-ply membrane material that stands tough against storm damage conditions and wear. It can be easily repaired if it becomes separated or punctured.
PVC – A very durable cool roof surface that is a relative newcomer to the market.
EPDM – A rubber roofing material that is quickly becoming a market leader. It is highly resistant to tears and pollution.
Metal – Standing seam and flat panel are considered lifetime choices. Steel, aluminum and copper are low-maintenance and rarely require repairs.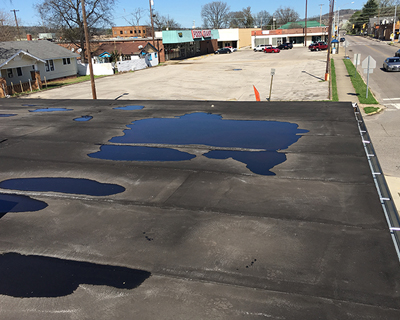 Most commercial roofs can be given new life by applying commercial roof coatings. We use Polyglass PolyBrite 90, a high solids silicone based roof coating for its waterproofing abilities. It also repels UV rays and make the existing materials beneath last for years without leaking. It is the best commercial roof coating for low slope roofing. If your flat roof warranty is nearing its end, these white coatings can prolong your roof for decades.
Flat Roof Repair
A commercial roof protects your business and your customers. When water pours in during or after a storm, it can cause damage to expensive equipment. It may also cause mold issues which are expensive to fix. Our affordable flat roof repair service can get your roof back to water-tight, 24 hours a day.
While it's true we can repair any type of level roofing surface, we specialize in converting older roofing systems to TPO (Thermoplastic Olefin) and PVC; commonly known by the brand name of Duro-Last.
Water intrusion on low-sloped roofs is completely unpredictable. A level roof can hold hundreds or even thousands of gallons of water and suddenly find its way inside. By keeping the cost for repair low, there's no excuse for procrastination. As a professional roof repair service, we have seen many water damaged roofs that could have been easily prevented by a routine inspection. We would much rather check your rooftop than repair it. Our goal is to keep you dry, not dry you out.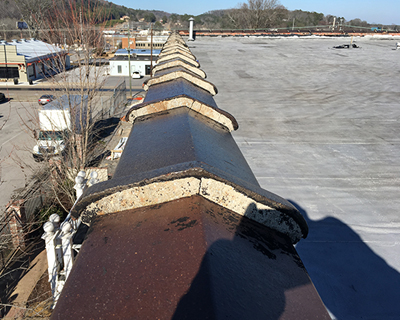 Flat Roof Cost
Our flat roof pricing is designed to keep the cost for commercial roof replacement or roof repair fair. The average cost for flat roof repair is between $2.50 and $5.00 per square foot on a large roof. Depending on the roofing system you chose, the cost for a flat roof replacement can still be within the same price range.
Regardless of the type of roofing service you need, you'll be sure to get a complete written estimate that includes labor, materials and a nice long warranty.
One Call Roofers is a commercial flat roof contractor in Birmingham, AL and the surrounding areas.