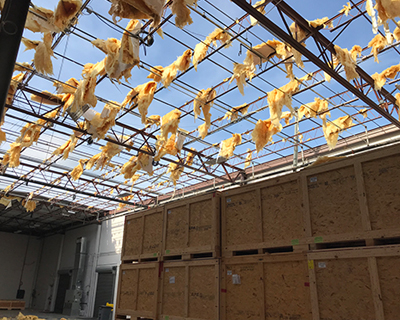 Storm damage repair for your roofing is just a phone call away. We are available 24 hours a day, seven days a week to help you get your roof repaired after stormy weather. Don't know if your roof has been damaged? We'll inspect it for free and fix it fast.
Storm Damage Roof Repair Inspection should be done as soon as it's safe to come out to your location. Our expert roof inspectors are thorough and the inspection is free.
Call Us At: (205) 588-2785
When shingles, metal, or other types of roofing materials are blown off of the roof or a tree has fallen on your building, you need immediate storm damage repair. But often damage is only apparent to the eyes of a trained professional who walks your roof inch by inch. Loosened shingles, lifting shingles, and hail-pitted shingles are three conditions that require immediate attention but can go unnoticed.
Storm Damage Roof Repair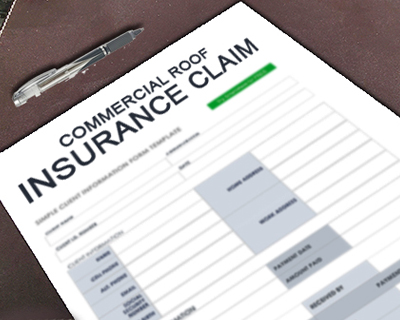 If your building has been through a serious storm that produced high winds, driving rain, or hail, call us at One Call Roofers without delay. We will provide an inspection and assessment of any damage and perform emergency storm damage repair. Waiting can be very costly as the next storm is often not far behind.
Our team specializes in emergency roof repair. In Alabama, nature can hurl many varieties of severe weather at a home. These can range from brutal thunderstorms that produce high winds, driving rain, lightning, and hail, to hurricanes and tornadoes. Summer's intense heat and sun can weaken roofing surfaces which can then be lifted and blown off by strong winds. Improperly installed roofs can make materials degrade prematurely and catch you by surprise when the skies turn dangerous. Aging roofs are particularly susceptible to wind and hail.
When Should You Call
If your business has experienced a severe storm you should call us right away to see if your roof sustained damage. If you notice any falling debris, roofing bits or particles that flowed from the downspout, or raised or curled shingles, you should call without hesitation. Water will eventually find its way into the building though any breach in the barrier.
Wind Damaged Roofing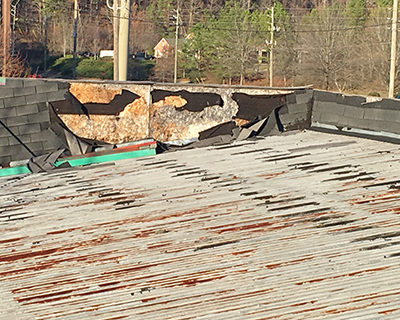 Shingles, metal panels, and single-ply membranes like PVC or TPO that are in a weakened state from age or weather exposure are easily lifted and broken by high wind gusts. Once they're gone, the underlayment is exposed. This barrier is not designed to withstand the elements on its own and will quickly deteriorate allowing water intrusion. We specialize in emergency storm damage repair where roofing materials are broken or missing.
Driving Rain
Horizontal rainfall is commonplace in the Birmingham area. This wind-driven rain can get under the roofing layer and beneath the underlayment in places where the rooftop is already compromised, installed incorrectly, or degraded due to age. When storm damage repair is needed for a newer roof that failed, improper installation is usually the cause. Our professional roofing services can fix improperly installed surfaces and repair any leaking areas.
Hail Storm Damage Repair
Hail is the greatest enemy to shingle roof installation. But did you know it can damage all types of roofing? A hail storm of even moderate proportion and stone size can cause significant roof storm damage. This can often create the need for complete roof replacement. Shingles become chipped and might lose their protective mineral coating. Roof vents and other protrusions sustain damage too and lead to leaks. Many business owners do not notice the damage from the ground. After a year or so, when the sun-weakened shingles begin to break, the time limit has likely expired to file an insurance claim. That is why it is important to give us a call immediately after a hailstorm. We specialize in dealing with insurance adjusters in the tricky area of hail damage repair.
Call the Pros
We are fully licensed and insured roofing contractors who have been providing emergency storm damage repair to your neighbors for over a decade – and we are not going anywhere. When you need us, we will be there for you. We also perform inspections, roof replacement, and new shingle roof installations as well. We are rated A+ with the Better Business Bureau and a preferred contractor. Call us today for any roofing needs or questions that you may have.
One Call Roofers provides roof storm damage repair in Birmingham, AL and the entire surrounding area.