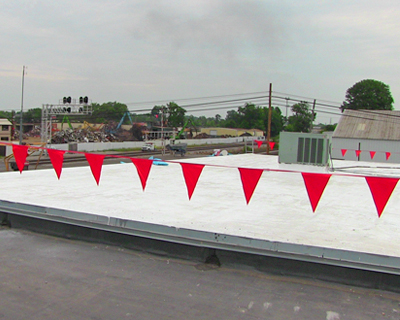 Commercial Roof replacement in Birmingham AL should only be done by a reputable roofing company. If being affordable and getting high quality workmanship is important to you then One Call Roofers is the best choice. We can replace the old roof on your building with a new one quickly.
Get A 50 YR Roof Warranty on a new roof installation. We're licensed, certified & insured.
CALL: (205) 588-2785
Some damage just can't be fixed with a simple roof repair. We will never sell you what you don't need and we'll give you alternative installation options whenever possible.
When the roofing on your business is costing you more to keep repairing it than it would to completely replace it, we're here to help.
Commercial Roof Replacement in Birmingham AL
Asphalt Shingle– The most popular roof replacement in Birmingham AL is shingle roofing. Shingles are affordable, sturdy and can be installed on commercial roofs. We use products from industry leaders like CertainTeed and GAF.
Metal Roofing– Metal roofing such as Standing Seam or R-Panel is the best for long-range, permanent roofing. It is very low maintenance and lasts far longer than any other roof replacement in Birmingham AL.
TPO/ PVC– Membrane roofing is one of the toughest and least expensive ways to cover flat or low-sloped roofs. The single-ply roofing system becomes monolithic since all of the seams are welded to form one giant waterproof roof covering.
Foam Roofing– Spray Polyurethane Foam or SPF, combines insulation, structural rigidity, and seamless waterproofing into one amazing commercial roofing system. It can be installed over most roofing surfaces.
Commercial Roof Installation
A quality commercial roof replacement in Birmingham AL starts by hiring a roofing company with experience and a reputation for excellent workmanship. We don't just install a new roof; we pay special attention to what is underneath it. The longevity of any roof is directly related to the structural integrity of decking.
Our professional roofers inspect the structure of every new roof we install. We always check to see if the wood or metal decking is sound, that the underlayment is intact, and that the flashing, gutters and ventilation are in good shape. If not, we will make any necessary repairs.
We are a Reputable Roofing Contractor. One Call Roofers is A+ rated by the BBB. Our commercial roofing company has spent years working in North Central Alabama, so we know what goes into building a strong and lasting rooftop.
We provide roof replacement in Birmingham AL and the surrounding cities.