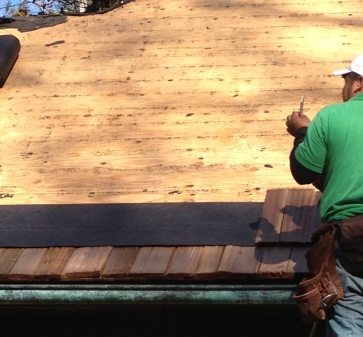 Cedar shake repair in Birmingham, Al is best left to roofing professionals. Although it may look easy, replacing wooden shingles has to be done right or they will leak.
Get a free Cedar Shake Repair estimate today!
Call Us At: (205) 588-2785
Many homes in Birmingham, Mountain Brook, Vestavia and Hoover have these beautiful wood roofs installed. In the past, cedar roofing was often chosen for use on historic or estate type properties.
Today, you will see these roof-tops on any building where timeless style, beauty and longevity are called for.
Finding roofers who provide cedar shake repair in Birmingham, Al can be frustrating. While many claim to be experienced in roof repair, there are only small handfuls that specialize in cedar shingles.
Cedar Shakes and Shingles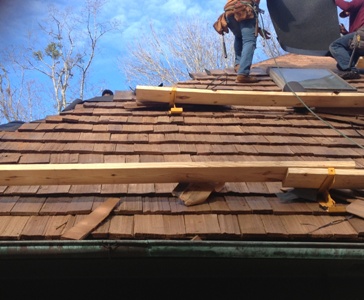 Cedar Shakes are taken from blocks of Red Cedar wood that are split. Typically they are chosen because no two pieces are exactly the same. Many times they are selected for having the appearance of being rustic. If you're looking for that, "little mountain cottage cabin retreat", then cedar shakes are the best bet.
Cedar Shingles come from blocks of Red Cedar wood that has been sawn into shingles. They have a smooth property to them and come in a sanded or sawn form. While the sawn version is more common, the sanded type is more refined and has a less textured finish.
Replacing Cedar Roofing
Wooden roofs are chosen for durability, but when they leak you need cedar shake repair in Birmingham, AL. There have been times when we've been called out to a property to find the homeowner who tried to replace rotten cedar roofing shakes themselves. While the thought is nice, this type of wooden roofing is very finicky.
Before any cedar shake or cedar shingle roof replacement, we will always perform the following: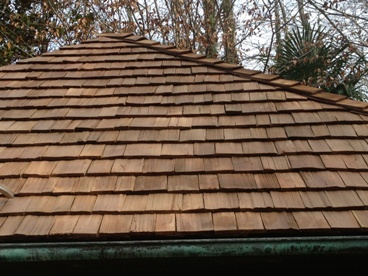 Thorough roof inspection. This includes finding evidence of the roof leak source.
Free written cost estimate. We will finish the cedar shake repair in Birmingham, AL on time and on budget.
Discuss roof repair options. Maybe you want the new cedar wood to match the weathered roofing around the repair; we can do that.
Provide Licensing and Insurance Proof. Never, ever hire a cedar roofing contractor without seeing these documents.
One Call Roofers specializes in cedar shake repair in Birmingham, AL as well as Mountain Brook, Hoover and Vestavia Hills.