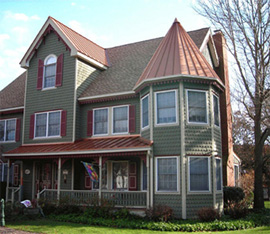 Residential roof repair in Hoover can be affordable and guaranteed. But it takes a lot more than a hammer & nails to repair a shingle roof the right way.
We Put Affordable Back In Residential
Roof Repair in Hoover, AL!
CALL NOW ! (205) 588-2785
Save the guessing for the lottery and know what you're getting into first. Since One Call Roofers is Angie's List and BBB A+ Rated, you will get high quality repair on almost any budget!
Are you looking for an affordable roof repair service that can easily handle all your issues with one call? We offer:
Residential Roof Repair Contractors.
When you are faced with needing a roof repair or replacement, you should be willing to do some research. When you call a local roofing company, ask for proof of current licensing in Alabama. Next, ask for proof of insurance. We have both, and are happy to show you our documentation.
When you need to hire a roofing company to repair or replace your roof, make sure you cover the following:
Local Roofing References – Ask reputable residential roofers that you call for local references and take the time to call them. Quality residential roof repair companies will also be willing to give you names and addresses of a few recent jobs they've completed. We will.
Locally Owned and Operated Roofers – Make sure the Hoover roofing contractors that you speak with have a local address. So if any roof replacement issues crop up in the future, the company you have chosen will be around to address them. Tornado prone areas are full of scam artists from out of state who are happy to take your money then disappear. We are a locally owned and operated residential roof repair contractor.
Consumer Roofing Reviews – One Call Roofers is A+ rated by the Better Business Bureau and highly recommended by Angie's List.
As a local residential roof repair contractor, we have the skill you need to repair a shingle, metal or flat roof fast. Whether you have a few loose shingles or just need a leaky roof fixed, we show you the damage and give you a free written estimate.
Affordable Roof Replacement
Has the option to repair your old leaky roof long gone? Honest roofing contractors will only perform a residential roof replacement when the opportunity to repair it properly is gone. We are proud to offer 100% financing in the event yours needs to be replaced.
Have a storm damaged roof and need an immediate roof replacement? Or has yours been neglected over the years? We offer reliable, affordable residential roof installation. You will always get a full report in writing about any problems we find. Choose from shingles, metal and flat roofing products.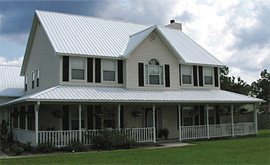 One Call Roofers is the residential roof replacement company in Birmingham, Alabama that cares about your home. It's very important to us that you are satisfied, so we offer a written workmanship guarantee. If any issues arise from service we provided, we will come out and fix it free.
We are the affordable residential roof replacement contractor in Hoover, AL and nearby areas.