Shingle roof repair is the most affordable way to stop roof leaks. Asphalt shingles will protect your home from all kinds of weather and can last for decades. Call the most experienced roofing service in the Birmingham area – One Call Roofers – for shingle roof repair and replacement.
TELL YOUR BROTHER-IN-LAW TO GET OFF THE ROOF BEFORE HE GETS HURT!
CALL US
NOW ! (205) 588-2785
As a local roofing contractors, we have worked with home owners, builders and designers for years. We will quickly and completely inspect your roof then tell you exactly what needs to be done to fix your shingle roof. Finally, we will put your roof repair estimate in writing and guarantee our work.
Expert Shingle Roof Repair.
When your rooftop is leaking, don't panic, call us 24/ 7 and we'll come running. We have the training to find the source of the water leak and seal it up quickly and permanently. If you see drips on a ceiling, discolored spots on walls or pinpoints of daylight in your attic, these are signs of a worn roof. But leaks in the shingles are just one source. Our roofing repair contractors will walk the surface and look for other trouble spots: clogged gutters, damage around edges and stability of chimneys.
We will meticulously inspect the area that is causing problems and only fix whats necessary to do the job right. We are a trusted shingle roof repair company with excellent reviews on Angie's List and accredited by the Better Business Bureau. Even though we're known for being affordable roof repair contractors in Birmingham, we will only use brands that are recognized as national leaders: GAF, CertainTeed and Atlas.
Shingle Roof Replacement.
When your residential shingle roof is leaking, rotting or sporting bald spots, it might be time to replace it. We have the experience and skill to recommend repair or replacement.
In general, it is best to do a shingle roof replacement if more than 25 percent of your surface has been damaged by the elements. In some cases, new shingles can be placed right over what you have now; but in most other situations, tearing off and starting over ensures the most reliable results.
First, our Birmingham roofers will remove old shingles and roofing felt. We will examine the condition of the wooden decking below as well as the metal flashing around edges and along angles. If they need repair or replacement, we will do it. We will also check seals around chimneys, skylights and vent stacks. These must be water-tight because they are places where most leaks start.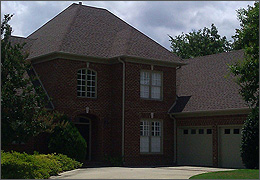 We will work with any budget and help you to select the best type of shingle roof:
Three-tab shingles have the lowest roof cost but it is engineered to last for at least 20 years with the proper installation techniques we use. It comes is a wide assortment of colors, shapes and protective mineral coatings. It usually takes just a day for shingle roof installation, even if we tear your old rooftop off first.
Architectural Shingles– also known as designer shingles – are thicker and more densely layered shingles. They come in a variety of sophisticated roof replacement looks including slate and tile lookalikes. Most are considered 50-year or even lifetime materials.
Preparation and Cleanup
Our professional roofing service approaches every job with care and attention to detail. You will not find roof replacement debris all over your landscaping or stray nails in the grass. We will protect your home as if it were our own. Trees, shrubs, walkways, play areas and cars will be shielded and all discarded material hauled away immediately. All you and your neighbors will notice is the beauty of the new shingle roof on your home.
Any shingle roofing, no matter how high-end it is, will not last if it is installed properly. We take our craft to the next level by using premium materials and top-quality methods for roof repair and new shingle roof installation.
All Estimates In Writing.
All of our findings and our estimates will be presented to you in writing, and you will never pay for something you don't need. If insurance will pay for shingle roof repair or replacement, we will work with your adjuster. Shingle roof replacement and repair have never been so stress-free. Call now for a free estimate and evaluation of your surface.
We specialize in shingle roof repair in Birmingham, AL and all local communities.