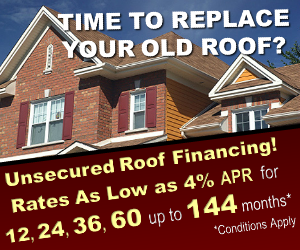 Roof cost in Birmingham, AL can be affordable. Are you looking for the price of a new roof or a roof leak repair? Either way, the quality of the roofing material, workmanship and contractor play a huge roll.
Get a Free Roof Cost Estimate Today!
Call Us At: (205) 588-2785
The bigger your rooftop, the more material you will need. Most homeowners understand that. But did you know that the bigger the home, the less per square foot it costs to add a rooftop?
That's because roofing contractors can get better prices by buying in bulk. However, if your topside surface has many protrusions like chimneys, very steep slopes and many angles, it will add to the price. We can help you find the material and methods that work best for you and keep costs down.
Roof Cost For Installation
Labor is perhaps the biggest factor, and when you understand the level of skill that goes into an installation, you will see why. Complex lines require specialized methods and equipment to reach the highest points. More chimneys and skylights means more flashing will have to be installed by hand around them.
Metal roofing, in particular, must be measured very precisely, and the time and skill it takes to install it are simply greater.
Never fall for an unusually low new roof cost. Skilled technicians bring a level of expertise to the job and use top grade materials at every price point. We have earned top service reviews from Angie's List and are A+ rated with the Better Business Bureau. And our pricing is very competitive. All of our installations are done with care, precision and patience. They come with a solid 100 percent satisfaction guarantee!
Materials
The next thing you need to consider when evaluating costs is the materials you choose. This includes not only the protective materials, but the felt, or underlayment, which is put on below the surface. You must also consider everything used to attach and secure the rooftop: flashing and sealants, gutters, ventilation components – even the nails. As a top quality home roofing service, we ensure everything is complete and ready to go when we arrive to do the job.
Shingle Roof Cost
Asphalt shingles are the most affordable surface material, but there are many grades and types out there. Three-tab shingles are the most basic and least expensive to put on: each tab covers a large area and is simply nailed to the decking and underlayment. A high quality rooftop of this material can be attached in a day on an average-sized home.
Metal Roof Cost
Whether you choose affordable steel, lightweight aluminum or legacy-quality copper, you can be sure you are getting a surface that lasts a lifetime. The roof cost is higher with these materials, but they last at least three times as long as shingles and have very low maintenance needs.
Metal roofs often have standing seams, which hide the fasteners and protect them from the weather. With copper, edges are welded together in key areas. These installation methods naturally ensure a watertight installation. Metal usually comes from recycled materials and is itself recyclable, so if you have "green" roof replacement goals in mind, this is one material that delivers.
Flat Roof Cost
If your home has a flat surface, such as over a garage or porch, you have many choices. Multi-ply tar and gravel, or modified bitumen, are the most basic and rugged, but today you also have the option of a cool single-ply surface. These come in rolls that are cut to fit and the edges permanently fastened together for seam-proof, leak-proof coverage.
Because waterproofing is vital to a flat surface, we can also add a coating that will protect it from leaks and the sun's damaging rays. We use Hydro-Stop products because they stretch as the building moves without cracking or tearing.
No matter what your roof cost goals, we can find a material to meet your criteria. And you will know that we treat every roof replacement project as important. After all, this is your home. Call now for your free estimate.
Get the best estimates on roof costs in Birmingham, AL and the surrounding communities.