Metal roof repair is affordable and can be done quickly. It is very important to fix metal roofing properly or it will leak.
Get High Quality, Low Cost
Metal Roof Repair !
CALL: (205) 588-2785
Our Roofing company has been repairing metal roofs in the Birmingham, Hoover, Pelham, Homewood and Vestavia Hills area for more than a decade. We provide same day roof leak repair estimates in writing and warranty all of our work.
Metal Roof Repair – Storm Damage
When installed correctly, metal roof repair is usually needed after a severe weather event. Storm damage is one of the main reasons that you may need a local roofing contractor.
Tornadoes! Building movement from high winds can cause the screws to loosen in their holes and potentially allow water inside. If this happens, the underlayment and decking can suffer damage over time. We can repair all parts of your roof quickly and easily, restoring its strength and water-tightness.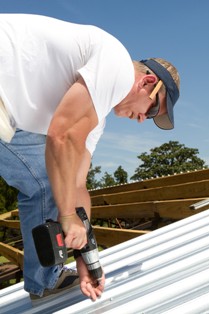 Benefits of Metal Roofing
Low maintenance – A new metal roof needs very little care. A hose and some detergent are all you need for routine cleaning. Fasteners and flashing should be checked for tightness periodically.
Leak Proof – The old tin roof is no more with today's roof coatings.
Lightweight Roofing – Because the steel roof panels are so light, your home does not need structural reinforcement. Sometimes they can be placed over an existing shingle roof that is in good shape.
Easy Maintenance – Metal roof repair is quick, easy and very affordable.
While there are a number of styles, colors and applications of metal roofs, you can choose any of these for your home or business:
Steel Roofs. Steel is one of the most cost-effective roofs. It can be painted in any color and treated to prevent corrosion.
Aluminum Roofing. Aluminum roofing is naturally non-corrosive in most environments.
Copper Roofs. Copper roofing gives a unique look that resists corrosion through the patina that develops over the years.
Types of Metal Roofs
Metal roof repair can be performed on all types and styles of metal roofing. Many have the traditional look of ribbed panels. However, they are also available in shingle look.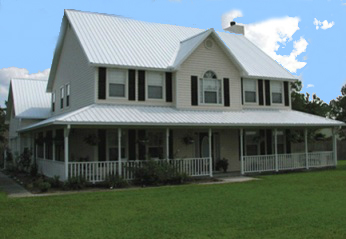 Some of the types available are:
Steel Panels – Overlapping flat-seam panels are designed to shed rain, hail and tree debris easily. They are fire and water resistant, reflecting heat in the summer and retaining it in the winter.
Standing Seam Metal Roof – These are panels that interlock with raised ribs that hide the fastening screws. This design resists wind lift and water seepage. Standing Seam makes for a fast metal roof repair.
Metal Shingles – These look just like asphalt, slate or cedar shingles but are built much stronger. They also last years longer and require virtually no maintenance.
The best metal roof repair takes skill and experience. Only hire a local roofing contractor who is licensed and insured. We have the experience needed to fix and replace metal roofing with top quality craftsmanship. We are A+ rated with the Better Business Bureau and highly rated on Angie's List.
One Call Roofers provides metal roof repair in Birmingham and the entire North Central Alabama area.