Hoover, AL roof repair contractors know the best way to fix roof leaks right the first time. We only use the best roofing materials from manufacturers like CertainTeed or GAF. Whether you discover a new roof leak or have a storm damaged roof, One Call Roofers will fix it quickly and guarantee the repair.
Hoover, AL Roof Repair is Affordable and Financing is Available. Call Us At: (205) 588-2785
When wind and rain combine, the resulting storm damaged roof is not pretty. No one wants to wake up in the middle of the night with water dripping from the ceiling, but sometimes it happens. If you need an emergency Hoover, AL roof repair in the middle of the night or the after the storm, call us right away.
Professional Roof Repair Company in Hoover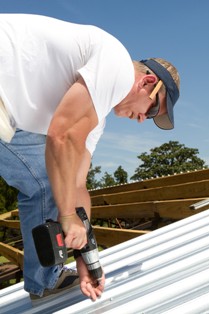 Inspection. Asphalt Shingles are the most common material used today. After bad storms, you need a Hoover, AL roof repair inspection. Missing roof shingles can be replaced, but it's important to check for underlying damage.
Repair. A leaky roof can often be repaired so long as you take care of it quickly. You may only need portions of your roofing shingles replaced. Wait too long and it could turn into a partial or total roof replacement.
Replace. Most Hoover, AL roof repair estimates include the cost of repairing roof damage. A hail damaged roof may only require the shingles to be replaced. If a tree falls on your residential roof, then we may need to replace the rafters as well.
In addition to offering roof financing, we also deal with insurance companies. Most Hoover area homeowners have insurance, but have no idea what's involved in filing a claim. We make that process very smooth. Our goal is total roof repair satisfaction and we will help guide you anyway we can.
Affordable Roofing Repairs
.
Everyone knows that asphalt shingles are the least expensive of the roofing materials. So why do some local roofing companies charge so much? Affordable Hoover, AL roof repair starts by only repairing what needs to be fixed. A roof inspection will provide that information quickly. We will work with almost any budget and also offer 100% financing.
Emergency Roof Repair
When was the last time you called a Hoover, AL roof repair service during the middle of the night and they actually answered the phone? Heck, it's tough enough to get a live person on the phone during the day! One Call Roofers answers your urgent roof repair calls 24/ 7. What's more, we'll come out to your home the second it's safe to make it there.
We let our customers do the talking when it comes to the quality roof repair that we provide. Our Angie's List reviews and BBB A+ is something we're very proud of. Call One Call Roofers today for affordable Hoover, AL roof repair.