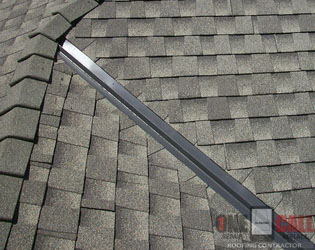 Roof flashing is the unsung hero of your roof. Its job is to quickly channel water away from walls, valleys, and chimneys. When the metal flashing on your roof fails, roof leaks and water damage come quickly.
Is the flashing on your roof cracked,
broken or corroded? We can replace it fast!
Call: (205) 588-2785 Today!
A lot of homeowners and would be roofers try to stop roof leaks around flashing with caulk. While this may keep the water from penetrating the roof in that spot, the results are temporary at best. Remove and replace the roof flashing the right way and it will last a very long time.
Roof Flashing Leaks
In order to find roof leaks that may be coming from the wall, valley or chimney flashing, you have to understand how it's designed to perform. Its sole purpose is to deflect unwanted water away from the joints and roofing seams where penetration can occur. Proper installation of the metal flashing is the key for it to do its job.
When rainwater enters an exposed opening between the roof flashing and a wall, the leak can show up anywhere on the inside. The water from these leaks will always travel to the lowest point and the puddle in the attic or on your ceiling. This is typically when we get a call to repair it. The only way to pinpoint a leak coming from the flashing is to have a thorough roof inspection done. Nobody likes a wild-goose-chase when it comes to sourcing roof leaks!
Types Of Metal Roof Flashing
There are many types of flashing installed on your home. The one's that are designed to help your roof keep rainwater off of your roof are typically made of stainless or coated metal. Examples of metal roof flashing include:
Wall Flashing – Wall flashing is used to ensure water cannot penetrate the seam between the roof and a wall on it.
Valley Flashing – Usually long pieces of stainless metal that is used where to roofing areas meet.
Step Flashing – This overlapped flashing is commonly used along a chimney or dormer that sits on a slope.
Pipe Flashing – Often called a "pipe boot or vent boot", they are used to make the hole in the roof waterproof where the pipe is coming up through it.
Chimney Flashing – This is the metal flashing that is used around a chimney to prevent roof leaks around it.
We repair and replace roof flashing in Birmingham, Hoover, Vestavia, Mountain Brook and Pelham, AL